Something is the New Something
In today's over hyped and media drenched and hipster-infused marketing-speak world, something (and more likely somethings) is inevitably and constantly catching buzz and flames of fire across the spectacular void of the Interwebs. Twitter, Pownce, Joost, iPhone, ahoy!
Something's always the new black, in other words.
Now we have a helpful new diagram to help us figure it all out.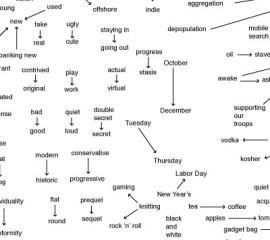 Some of my favorites:
* Fark is the new Slashdot
This is undoubtedly true… particularly for those who get giggly over the notion of "boobies."
* Park Slope is the new West Village
This was becoming the new conventional wisdom around the time I moved out of New York in the late '90s. Of course, I was living in decidedly un-hip Astoria, Queens.
* Google is the new Microsoft, and Google is the new Yahoo
So Google is the new everything in other words. Hard to argue with that!
* Staying in is the new going out
I don't know if this is hipster black or not, but it certainly relates to my state of being!
* Ice is the new ice
Very difficult to argue with as well!
(via c|net news, which was via Information Aesthetics)